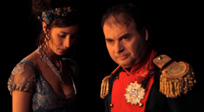 LIBERTY CHÉRIE est construit comme une poupée gigogne, questionnant de manière vertigineuse et surréaliste les modes de représentations et l'imagerie historique de l'Europe contemporaine.
Maria Walewska, est projetée au milieu de la deuxième guerre mondiale. Fidèle à ses attachements elle mettra sa vie en danger pour sauver la liberté.

LIBERTY CHÉRIE is a dream that consists out of different layers. In a breathtaking and surreal way it questions the modes of representation and historical imagery used in contemporary Europe.
Maria Walewska is projected in the middle of the second World War. True to her beliefs she puts her own life at risk to save freedom.

PRODUCED AND DIRECTED BY SUPERAMAS

Director of Photography
Geoffroy DUVAL
Assistant
Alexandre BISSARETTE

Light & Sound
SUPERAMAS
Sound Assistant
Peter CONNELY

Music
SUPERAMAS & Christophe DEMARTHE

Production Designer
Faris Endris RAHOMA

With
Agata Maszkiewicz, Christopher Green, Diederik Peeters, Roch Baumert, Olivier Deparis, Karen Lambaek, Peter Connely, Martin Schwab, Valérie Hellebaut, Jérôme Dupraz, The 2 car people

Set and Costume designer
Sophie DURNEZ
Maria Walewska's Costumue design
Sabine DESBONNETS

Grip
Martin Schwab

Make Up
Karen Lambaek

Production Coordinator
Helga Baert
Location Manager
Lies Vanborm

Best Boys
Technical crew Vooruit

Production
SUPERAMAS
with the support of
City of Vienna, Austria / Ministry of Education, Art and Culture, Austria / Direction Régionale des Affaires Culturelles d'Ile-de-France, Ministrère de la Culture et de la Communication, France / DICRéAM, Ministrère de la Culture et de la Communication, France / The Flemish Community, Belgium / Austrian Cultural Forum Brussels, Belgium

Co-Producers
Le Fresnoy - Tourcoing / Le MANÈGE scène nationale MONS-MAUBEUGE / Technocité / Kunstencentrum VOORUIT
with the support of
Transdigital & FEDER, in the frame of the transregional platform research, arts and science
and interreg IV project
with the support of the European regional Development Fund

Technology provider
I-MOVIX

"She is my Lady"
Music & Lyrics: Christophe Demarthe / Vocals: Camille Doublier & Christophe Demarthe